Maia
Founder and Visionary
Maia came from Switzerland in 2011 with her son to Marlborough and created a lifestyle rooted in the yogic principle of AHIMA (non harming). She teaches yoga from beginners to advanced as well as to children at School. A former lawyer she has also graduated in facilitating and training family constellations and founded Essential Healing and Family Constellation VIRTUAL. Her passion for animals and being a 'dog-person' inspired her to establish Hounds4Life! to foster and to help re-home retired Greyhounds at the Top of the South Island in cooperation with Nightrave Greyhounds.
In need of more space to create a Sanctuary for 2 and 4 legged people who live together in a vegan community, Maia founded Te Paranui Permaculture Homestead & Animal Sanctuary in 2015. She also teaches plant-based whole food cooking and nutrition in the EARTHBOUND Kitchen at Te Paranui. Find out more about Maia (Andrea Bahlsen).
Alex
Manager on Site
Blenheim born and bred Alex is a certified animal health and well-being caretaker. The long term vegan has lived and volunteered at Te Paranui for 2 years until the opportunity opened up for her to take over the full time Managers position. "To work here with the animals all day is all I ever wanted" was her first reaction.
With her help Te Paranui has become a safe place for all sorts of animals for whom she is tirelessly finding forever pet-homes. Her best mate is Theo, the gentle giant cow whom she saved as a 'Bobby' calf. See more about her rescue activities at Te Paranui Farm Sanctuary.

Charlotte
Veterinary Voluntary Service
Being a vet since 2007, Charlotte is specialised in equine dentistry and is passionate about making the last steps for pet and owner as comfortable as possible with her at-home Euthanasia Service in Marlborough.
At Te Paranui she is donating her time and skills to help give the animals in our care the best medical treatments and procedures on site to reduce stress and discomfort in our patients. Find out more about Dr Charlotte Patterson-Breen BVMS at eponavet.co.nz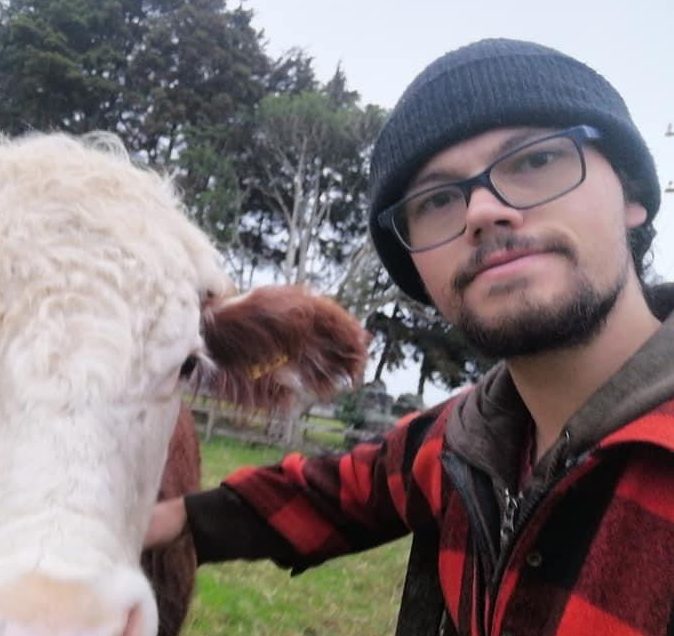 Harrison
Volunteer
His love for cows brought Auckland based Harrison to Te Paranui where he's living and donating his time on a regular basis to care for the animals. Harrison's skills as a roofer are put to task when building structures small and big for the Animal Sanctuary which provide safety and shelter for all our 4-legged and feathered residents.